As long as there have been people on earth, they have picked up the things around them and used them to gain messages about why they are here, or where they are from, or where they are going, or what they need to know to be very human in a very large world. The very foundation of divination of any form is our ability to perceive the world through the eyes of symbol. Some symbols seem to be innate, part of our connection to the greater human whole, some symbols are cultural, some are tied to specific times, and others are carried through families. All of these symbols create this vast, dynamic web of understanding that lays at the heart of the messages that we can see in the world around us, or in an image on a card, or in the casting of these symbols.

In this class we will take a look at the beauty and the power of symbols and how being aware of them can not only add depth to how we read different divination systems, but also allow us to read the world around us. Sections will include:
History of Divination
The Symbolic World
The Symbology of Shapes, Letters & Numbers
The Symbology of Color
The Symbology of Archetypes
Reading the Web: Practical Application
Your Instructor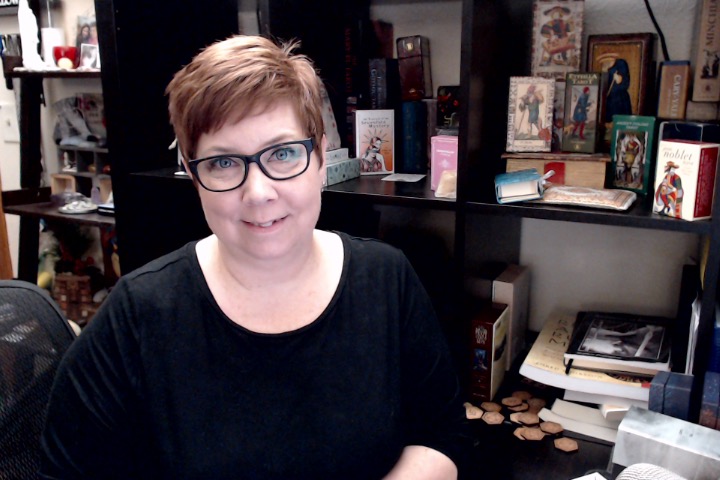 Ever since I can remember there has been Story with a capitol S and I have had a keen interest in how we tell those stories as human beings. As an artist, that story is told with paint, color, and movement--visual energy across a canvas allowing me to capture a single message or in the case of decks, ideas that flow together into a greater whole. As a writer, the story is told with words, stringing together a story that can on one hand be a fun adventure and on the other, a lesson to be learned. As a diviner, Tarot, Oracle, Lenormand, Runes, Oghams, Geomancy, Journey Tokens are all beautiful and intuitive tools for tapping into the flow of Story that connects everyone across time as we all go about this messy but beautiful journey called life.
My name is Kelly and I have a Youtube channel, The Truth in Story, where I do tutorials on divination and in depth walkthroughs on decks and systems. I have a Lenormand deck that I painted and a casting system that I developed and released. I teach Tarot, Lenormand, Geomancy, Oghams and Runes and I have the honor and privilege to read professionally with those systems. Come visit me on Youtube, Instagram or www.thetruthinstory.com
Course Curriculum
Introduction
Available in days
days after you enroll
Section 1: History of Divination
Available in days
days after you enroll
Section 2: The Symbolic World
Available in days
days after you enroll
This course is not open for enrollment.