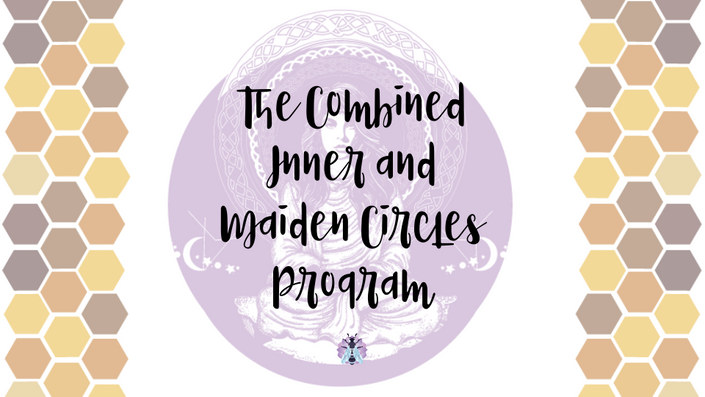 Coven - Inner and Maiden Circles Program 2020
Integrated Spiritual Witchcraft Practice
Are you an eclectic witch just discovering the craft, or been practicing your own special kind of magic and are looking for structured learning and practice along with a community of badass witches to learn with and be mentored by?
Over the next twelve months, you'll explore the practice and traditions of witchcraft, trying and applying what works for you as a modern witch.
As a practicing High Priestess who has mentored and initiated many witches over the year my approach is non-dogmatic, eclectic and inclusive. My goal is to help you discover your own spiritual path practicing the craft
This program is for anyone who wants to establish a regular practice with structured learning and support. It includes:
Four Live Calls Each Month
Join us live each Wednesday at 6:15pm PST. Each call is recorded and available later the same evening for download if you aren't able to make live call.
Call 1 : The Maiden Circle learning module. See below for a full breakdown of the content each month.
Call 2: Full Moon Ritual. Join your fellow witches on a live video call from anywhere in the world to celebrate the full moon and cast a spell with the help of the Goddess of the Month.
Call 3: Witches Workshop - Every month we work on a new activity that will enhance your magical practice on a live video call. Past activities have included candle scrying, runes, spirit painting, palmistry, animal guides, and much, much more.
Call 4: Inside the Witches Circle - Because our members are a group of eclectic witches we want to learn from each other. Each month one of our lovely witches shares about their personal practice, what regular activities they do, some of her favourite resources, answers any questions people might have and much more!
Community and Mentoring
You'll get access to our awesome group of mentors who are all eclectic witches with a least two year of experience practicing in the Awakened Soul Coven that you can ask questions to at any time.
You'll also get access to the inclusive Awakened Soul Coven online community to get support, make friends and ask questions with your fellow witches. The people in this group are a real treasure – fun, supportive, and collectively share hundreds of years of practice.
Video Training On The Goddess Of The Month
Each month we focus on a new Goddess and her attributes that we want to call into our rituals, activities, and spiritual practice. The video training will help you delve deeper into the Goddess and the aspects of her that you can invoke in your magic and spiritual journey.
New Guided Meditation Each Month
Meet with the Goddess of the month to delve into areas of your life with beautiful guided meditations that you can download and keep. Past meditation topics include protection, boundaries, fears, releasing energetic hooks, meeting your muse, and many others.
Monthly Tarot Spread
Gain deeper insight into your life with a monthly Tarot Spread PDF that builds on the theme of the month that you can download and use whenever you want.
Community Fun
We run regular challenges, gift swaps and much more!
The Maiden Circle Training Curriculum
Month One - A Witch's Daily Practice
How you start any journey is important and the one into your beautiful practice of witchcraft is no different - it's a time for celebration! You are making an amazing commitment to your self-care and spiritual work. The impact of this goes beyond just you. Witches have a long history of being healers, helpers, and custodians of the natural world and the beings within.
This month you'll learn how to create a strong foundation for your daily practice. You'll also:

You'll get to know yourself better as a witch
Do a dedication ritual where you'll make a formal promise to yourself and spirit about your practice
Meet the other incredible mentors and witches in your new community
Learn about the Book of Shadows and Mirror books and start using them
Month Two - Which Witch Is Which?
There are many different ways to practice the craft. There is no one right way, only the right way for you. It's not something that you need to feel pressured to figure out, it's a journey, not a destination. This month we'll be exploring the different types and traditions of witchcraft. Other topics will include:
Debunking common misconceptions about the craft
What witchcraft is which and what it can do for you
The ABCs of witches tools
How to start building your own witches tool kit
Month Three - Protection and Boundaries
The energetic barriers you create helps protect you from people in your life and other entities when practicing your craft. When you don't have firm boundaries, you leave yourself vulnerable to giving up too much of your personal power. This month we'll delve into:
Protection on all levels - mind, body, spirit, and energetic.
How to call back your personal power and set healthy boundaries
How to build protections into the application of your craft
Month Four - Spellcasting
Let's face it, casting spells are one of the sexiest parts of being a witch. Being able to set your intention, perform a ritual, and then manifest something into the world is an incredible skill. It's something to be practiced and perfected while being humble and respectful. The fun we'll be having this month includes:
The mechanics and guidelines of spellcasting
Understand what influences a spell and what strengthens it
Find out ethics and responsibilities as a spellcaster
How to write and cast your own spells
Troubleshooting your spells
Month Five - Moon Magic
Moon magic follows the cycles of the moon and uses the energy for your work. While it's common to acknowledge new moons and full moons with rituals there are also six other moon phases. This month we'll:
Explore the different phases of the moon and what powerful magic rituals can be used for each one
Learn how to use the moon's natural magic to enhance every aspect of your life
Receive a full grimoire of moon correspondences
Explore the deities that are associated with the moon
Month Six - Nature Magic
Like the moon, the world around us holds potent magic that witches have used for centuries. When we are in tune with nature, we use all the crayons in the box. We maximize our magical potential and are closer to our most natural self. Topics this month include:
Sensing and communicate with natural magicks including devas, faes, and the natural world.
Herbs. The must-haves for the witch, how to harvest them, and how to do spellwork and healing work with them.
Spells, charms, recipes for poultices, teas, and tinctures.
Being a custodian for the natural world around you and how to look after your local parks, gardens, and wildlife.
Month Seven - The Wheel of the Year and Sabbats
Witches celebrate their holidays with the seasons and the earth's natural rhythms. As we mark the days and nights with the solstices and equinoxes, a rich mythological and magical tapestry is interwoven with the reflecting changes in nature. This month we will:
Learn the mythologies that take us around the Wheel of the Year and what they have to do with our lives
Why and how we celebrate each of the sabbats
Recipes, games, activities and rituals for each
How to modernize the ancient traditions
Month Eight - The Element of Air and the Witch's Mind
Air is the element we use in magic for new beginnings and inspiration. It is also the element of the intellect and your mind. Because your thoughts create your actions, which then creates your experience, the most potent tool in the witch's toolkit is the mind. It's essential to heal, cleanse, and hone the mind so it's an effective one. Our topics this month include:
The power of words
Mental hygiene and clean communication
Meditation and breathwork
Chanting, singing, and music,
Gods and goddess that are associated with the element of air.
Month Nine - The Element of Earth and the Witch's Body
In magic, the earth element is the way we manifest from spirit to matter. It's the great mother and the great healer and the element in which everything grows. It also represents our body. This month we'll explore:
Balancing our home's energy
Altars and shrines
Ritual clothing, sacred tattoos and what you wear
How to use crystals
Our diet, water, and exercise for witch's wellness.
Month Ten - The Element of Fire and the Witch's Spirit
In the witch's pyramid, fire represents willpower, daring, creativity and the ability to change. It's what drives us forward, the blood pumping in our veins, the fire in our belly. Topics this month include:
Candle magic methods and spells
Blood magic 101 - what is it and whether you should use it
Pathworking to meet your matron and patron deities
Creativity exercises
Crafting your own goddess and god statues
Month Eleven - The Element of Water and the Witch's Emotions
Water is the element of emotions. It is also connected to intuition, empathic abilities, clairs, and our subconscious and dreams. Since our body is more than half water, it's a pretty important element. This month we'll delve into:
How your emotions affect your witchcraft and life
Healing our past and dealing with grief
Dream magic
Exploring and developing your clairs
Recipes for witchy tea brews
A beginners guide to cauldron magic
Month Twelve - Chakras
The seven energetic energy fields in our bodies known as chakras regulate the flow of energy through our energy system. Witches call them psychic centres. All of your senses, perceptions, possible states of awareness, and everything you can experience is divided into seven categories that are associated with each chakra. During our final month, we'll explore these parts of our consciousness. Topics include:
Learning how to open, balance and cleanse your energy centers
Using the chakras as a wonderful partner for magic and healing
Correspondences, activities, chants and daily chakra work
Your Instructor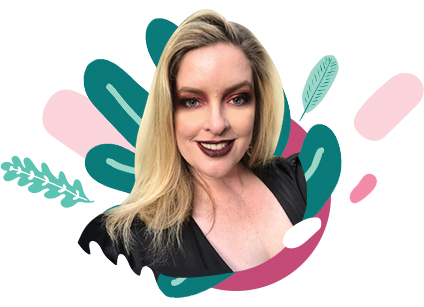 Ethony is a Tarot reader and author who loves to create more than sleep. She is the Headmistress at the Tarot Readers Academy where she teaches and mentors Tarot professionals and students.
She is the host of Tarot Summer School, an annual program that includes 10+ amazing teachers sharing their knowledge of Tarot, mysticism, witchcraft, and other specialties. She has been a practicing eclectic witch for over 18 years and runs the Awakened Soul Coven, an online learning circle open for any type of witch.
She has published a growing number of decks including the Bad Bitches Tarot, the Awakened Soul Oracle, the Prince Lenormand Oracle, and the Money Magic Manifestation Cards. Her first book, Your Tarot Court, was published by Llewellyn Publications in 2019.
This course is closed for enrollment.