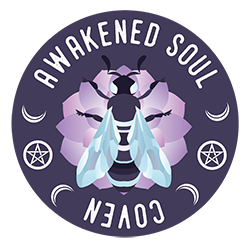 THE MOTHER CIRCLE IS FINALLY HERE!
AN INVITE ONLY 12 MONTH PROGRAM FOR MAIDEN CIRCLE ALUMNI
Over the next twelve months, you'll explore the next level of training. The program also includes another 12 months of the Inner Circle.
The program cirriculum:

Month One - Developing Intuition
Intuition plays a large part in all aspects of magic, and it will help you direct your energy and be more efficient in your spell work. During this month, we will work with practical exercises to strengthen your clairs and how to discern whether the messages you are getting are actually from spirit.

Month Two - Stir Summon Call, Invocation, and Evocation
This month you learn how to welcome different entities into your space. You'll explore the difference between stirring, summoning, and calling during rituals and when to use each one. You'll also learn about invocation and evocation.

Month Three - Witch's Power
Learn how you can use your power and the different ways you can raise power in your circle for successful spellwork. You'll also learn how to infuse different items with power and how to give yourself power boosts.

Month Four - Herbs, Oils, and Amulets
Expand your knowledge of herbcraft and how to work with them in and outside of ritual. We will work with magical oils and perfumes. You'll also discover the world of amulets and how to make them from the things you already have around your house and treasures from nature.

Month Five - Quantum Magic
This month will focus on the space where science and magic meet. You'll learn about the laws of reality, quantum-magical reality, and directive effort, to name a few. We'll also discuss how witches can believe in both science and magic and how the witch's mind is a powerful tool for quantum magic.

Month Six - Modern Day Magic
We will be tackling topics such as city magic, techno magic, and cyber magic, and it's increasingly becoming a part of every modern witch's repertoire. We'll be discovering some modern gods and goddesses that you can work with day-to-day.

Month Seven - Astrology 101 and Magic
Use the planets to make your magic more powerful. You'll learn the cornerstones of astrology so you can use the cosmic influences to your advantage. You'll find out which planets align with the different types of spellcraft, and you'll be given more detail about timing and magic.

Month Eight - Numerology 101 & Sacred Geometry
Learn about sacred geometry and how to apply it to your magic. We'll talk about your divine triangle and which details your personal number vibrations and the challenges you'll face and the lessons you'll learn in this lifetime.

Month Nine - Working with the Divine Masculine
We've worked a lot with goddesses so you'll explore working with gods and learn their mythologies from around the world. You'll also learn how and when to invoke them in your magic and the benefit of working with the solar masculine powers.

Month Ten - Faery Magic
Working with faeries is fun, but you also have to be careful because they are tricksy little creatures that do not play by the rules. You'll learn the different types of fairies and which ones to work with and the ones to best leave be.

Month Eleven - Witches Kabbalah
You'll be exploring the Tree of Life and how it's central to the mystical teachings of western magical traditions. We will be discovering their correspondences and how to work with the Kabbalah as a modern witch. You'll also receive your final project to begin working on.

Month Twelve - Witches Kabbalah part two
As the Kabbalah is a huge topic, we'll continue the work from part one and you'll continue working on your final project. You'll have access to some recorded path workings.