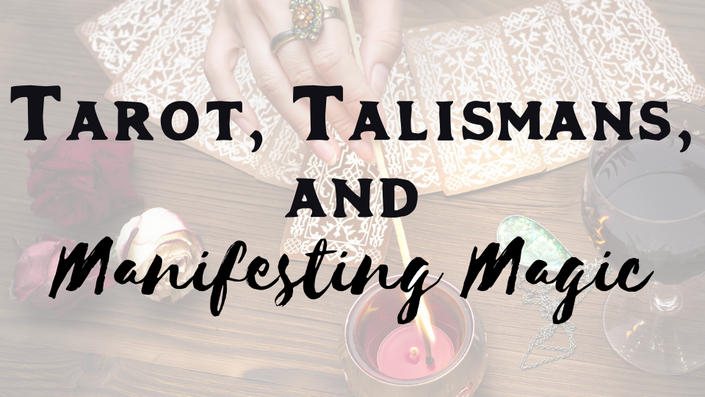 Tarot, Talismans and Manifesting Magic
Combine the Cards with Magical Tools to Transform Your Life - Available until August 31st, 2020
Make your Tarot reading work for you, even after the cards have been put away
Get ready to make some magic! Learn how to create powerful and empowering talismans by working with the Tarot, ritual, visualization, and by tapping into your own magical self.
A talisman is a magical tool, often a piece of jewelry, that has been consecrated for your own unique purpose. In this course, you will create a talisman that will support you in reaching your specific goals, manifesting your dreams, and living the life that you desire.
By working with specially designed Tarot spreads, you will learn how to get laser-sharp clarity on what you really want to manifest in your life, and the steps you can take to achieve that. You will then go through the process of weaving the energy and insight of your Tarot reading into the creation of your magical talisman. This powerful combination of Tarot and talismans will guide you to transformation, inspiration and intuitively guided action.
The course includes:
What is a talisman and how do they work?
Choosing the best material for your talisman.
Clearing your talisman.
Timing: working with the energy of the seasons, the Moon, and significant occasions.
How to create powerful and effective intentions and set them into motion.
Specialized Tarot spreads and techniques.
Creating your affirmation, power statement or mantra.
Consecrating your talisman with ritual and visualization.
Working with your talisman going forward.
Bonus: a specialized look at talismans for love, money and more!
And more!
At the end of this course, you will have created at least one personal, magical Talisman, and you will know how to create more whenever you wish to. Also, you will find that your Tarot and intuitive skills will have deepened. By using this process, you will be able to deliver a powerful Tarot experience to yourself, to your friends, or to your clients, one that continues to have an impact and benefit long after the reading has finished.
At least a basic level of comfort with and knowledge of the Tarot is recommended. You are free to work with your favorite Tarot deck. PDF worksheets will be provided. You will need to obtain your own actual talismans for the class but ample guidance is provided.
Your Tuition
Includes lifetime access

"Thank you! I love and adore the variety of teachers & course topics in Summer School, along with the campfire calls so that we can connect to the teachers & ask questions. You always curate an amazing Summer School! Keep doing what you're doing!" - Cory G
Your Instructor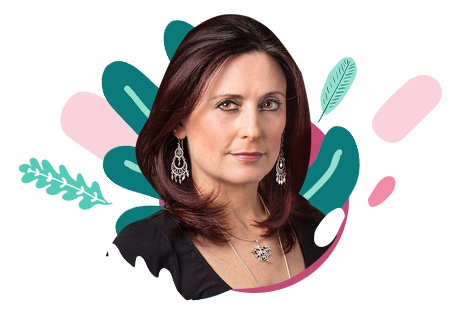 Lori provides mystical yet practical guidance with Tarot as Inner Goddess Tarot in Toronto. She is a solitary witch, a priestess, a diviner, an ordained minster with the Canadian International Metaphysical Ministry, and an introverted empath. Lori holds two Masters degrees in Ancient History/Archaeology and Museum Studies, was a fundraising event planner, and lived in Japan for several years, but for a long time now her full-time focus has been on Tarot.
Lori runs the popular Toronto Tarot Circle Meetup group, which is now expanding beyond her hometown. She divides her time between reading and teaching Tarot, and performing hundreds of happy wedding ceremonies. Lori blissfully spends a lot of her time in her golden home office with her cat, Willow.
Lori's work focusses on combining Tarot with magical talismans, and helping her clients to connect with their own Inner Goddess. She been a featured presenter at international Tarot conferences including the Northwest Tarot Symposium in Portland, and the Light & Love Tarot Reading Festival in Montreal, and is looking forward to presenting in Salem, Kingston and Elora in 2021 and beyond.
Tarot Summer School FAQs
How Does It Work?

You can register for ANY of the Tarot Summer School courses starting June 1. Summer School closes August 31. The first class goes live on June 3. You'll receive an email each time a class is released. You can attend classes at your convenience and you'll have lifetime access to any classes you purchase.

What If I Can't Watch The Course I Have Enrolled In The Day It Goes Live?

You can register for ANY of the Tarot Summer School courses starting June 1. Summer School closes August 31. The first class goes live on June 3. You'll receive an email each time a class is released. You can attend classes at your convenience and you'll have lifetime access to any classes you purchase.

What Is The Last Day I Can Enrol In Tarot Summer School Courses?

12 AM PST on the 1st September 2020. There will be a closing ceremony on the 31st of August 2020.

Are There Payment Plans Available For The Season Pass?

Yes, there is a payment plan option for the season pass, you will see it when you click, 'enrol in course' or scroll down to the bottom of the season pass page on the Tarot Readers Academy.

What Are The Payment Methods Accepted At The Tarot Readers Academy?

All major international credit cards (Visa, MasterCard, American Express) are accepted and so is PayPal. Please note that if you are geographically located in the EU, VAT will be added to your course investment at checkout. This is done automatically by the software we use.

What Is The Refund Policy With Tarot Summer School Courses?

There is a 30-day refund policy from the date of purchase. Please contact the headmistress at [email protected] for these enquiries. Please note that you will not have access to the courses if you process a refund.

How do I speak with the Tarot Summer School Teachers Of The Course That I Have Enrolled In?

Summer School Teachers can be contacted through our private Facebook Community and will also be joining in on the live Campfire calls where you can ask them questions about their courses. Not all Teachers will be able to join us for the live calls but they will try to make it.

What If I Can Not Make Any Of The Campfire Q&A Sessions?

If you have a burning question or want to ask your teachers something specific about the workshop that you are in you can submit a question via email or the Tarot Readers Academy Facebook Group and we will endeavour to answer it for you. As a Tarot Summer School student, you will have access to the recordings of the Campfire Q&A sessions after they are done via your Student portal at the Tarot Readers Academy.